We are a purpose-driven organisation and focus our actions on making a sustainable impact. At BNG Bank, we know what is going on in society, we focus on solutions and on the relationship with our clients.

Our Road to Impact strategy
Instead of maximising profits, our priority is to maximise the social impact of our activities. We aim to be a go-to partner for our clients by helping them address the social challenges they have to cope with. We want to be successful at delivering and demonstrating our social impact. To achieve this ambition, we focus on the Dutch public sector and on building strong customer partnerships.
We use the UN Sustainable Development Goals (SDGs) as a guide to achieve this. We specifically focus on five SDGs which correspond closely to the activities that BNG Bank finances:

We have set ambitious targets with our clients to ensure our social impact on these SDGs. Our methodology enables us to measure and report on our clients' impact. We are among the first financial institutions in the Netherlands to do this. As this is a new process, we stand to learn a great deal and may further enhance our methodology along the way.
We have developed an engagement plan that will help steer the activities of our clients and support them in their efforts to act on the SDGs.
ESG
BNG Bank conducts its activities with respect for the environment and for society at large, and in a fair and transparent way. We do this by linking the three dimensions of the ESG model (Environment, Social, Governance) to our main activities: lending, funding, internal operations and HR policy.
The bank has published in its ESG Policy the sustainability criteria under which it implements the strategy and business activities. The same document also stipulates the exclusion criteria that BNG Bank applies to its lending. The way in which BNG Bank respects human rights in the chain is set out in the Human Rights Policy.
Climate action
Never before has society faced a challenge as enormous as reducing CO₂ emissions. Banks play an important role in this process, as it is the banks that will have to provide loans to facilitate the transition to a carbon neutral society. We are taking action to keep our planet as liveable as possible for our own and future generations.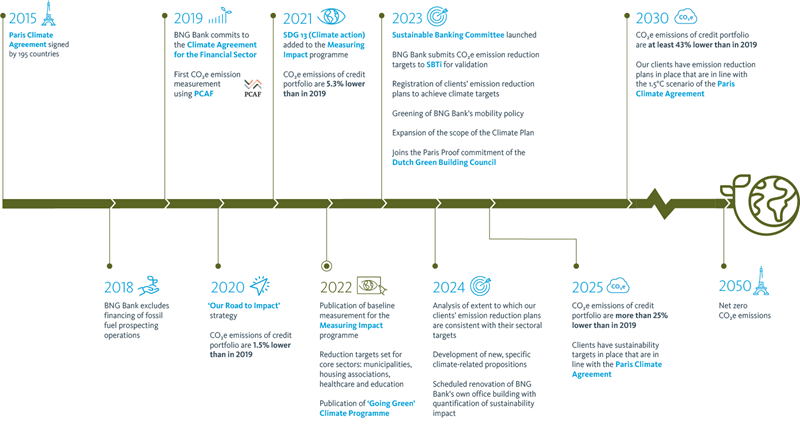 In 2019, BNG Bank wholeheartedly subscribed to the Climate Commitment for the Financial Sector to achieve a 49% reduction of CO₂ emissions of its loan portfolio by 2030 – a target that chimes in with the worldwide Paris Climate Agreement. Even before that, in 2018, BNG Bank had already decided to exclude all forms of fossil fuel extraction from financing. We may tighten our exclusion policy even further in future – for instance, if clients' climate performance falls short of the effort required to achieve the CO₂ reduction target. 2019 was also the first year in which we mapped out the CO₂ emission levels of our credit portfolio. In that connection we joined the Platform for Carbon Accounting Financials (PCAF), which develops methodologies to calculate CO₂ emissions by financial institutions. According to the PCAF methodology, clients' direct and indirect emissions are attributed to the bank based on a set of comprehensive valuation rules. Annually we report on our clients' progress on the assessed indicators and on the reduction of CO₂ emissions associated with the loan portfolio. The PCAF methodology is used by most Dutch banks and several foreign ones.
As a next step, we published our Climate Plan, 'Going Green' (pdf, 14.5 MB), in December 2022, in which we outline how we will work to bring emissions from our credit portfolio and those arising from our own operations in line with the 1.5°C target of the Paris Climate Agreement in the coming years. We will submit these reduction targets to the Science Based Targets initiative (SBTi) to make sure they are tested against the latest scientific insights in the field of climate change.
'Going Green', BNG Bank's Climate Plan
To achieve our objectives, we focus on emission reductions in the four biggest sectors of our bank's operations: housing associations, municipalities, healthcare and education. Concentrating on the direct and indirect emissions caused by the energy consumption of real estate in these sectors, we were able to map 95% of the emissions they cause.
Sector-level targets
In 'Going Green', our Climate Plan, we have set clear targets at sector level. For each sector, we describe the actions we expect our clients to take to reduce their CO₂ emissions and motivate them to create an emissions reduction road map, if they have not done so already. If clients have not formulated an action plan by 2025, then in future for every new real estate financing application of € 5 million or more they will have to include a plan showing that the investment is in line with the Paris Climate Agreement.
Our own operations
BNG Bank has measured the CO₂ emissions of its own operations in accordance with the Greenhouse Gas Protocol (GHG) since 2010. BNG Bank's office building has had an 'A' energy label since 2017 (amply meeting the required 'C' label for buildings in 2023). Also, the bank has received ESG ratings of 'C+ (Prime)' from ISS ESG and 'Advanced' from Vigeo Eiris. Even so, we are determined to reduce emissions generated by our own organisation even further. A large-scale renovation of our office building will take place in 2024, which will involve making our building even more sustainable. Our ambition is to also include our mobility-related emissions in this Climate Plan from next year. We already encourage our employees in every possible way to travel by public transport and by bicycle.
ESG bonds
BNG Bank ESG Bonds promote BNG Bank's SDG-focused financing to Dutch municipalities and social housing associations. BNG Bank started issuing ESG bonds in 2014 and its first framework was succeeded in 2021 by the BNG Bank Sustainable Finance Framework. That framework connects the expenditures of Dutch municipalities, and of Dutch social housing associations, to the ICMA GBP and SBP categories, and the 17 SDG's of the United Nations.

The BNG Bank Sustainable Finance Framework consists of two sub-frameworks:
Sub-framework for Dutch Municipalities, published March 2021
Sub-framework for Dutch Social Housing Associations, published October 2021
We developed our methodology together with PON & Telos, a research partner of Tilburg University. A second party opinion of the Sustainable Finance Framework has been provided by ISS ESG.

BNG Bank has the ambition to gradually increase the issuance of ESG Bonds under its Sustainable Finance Framework.