A safe haven for people with dementia
06 July 2015 - Sustainable cities and communities (SDG 11), Good health and well-being (SDG 3)
Rietveld in Alphen aan den Rijn is a unique residential service centre for people with dementia. It is a 'village' in the centre of the Kerk and Zanen district complete with accommodation units, a village square, shop, a hairdressers, restaurant, garden, courtyards and plenty of opportunity for activities. The first residents moved into the Rietveld home last June.
BNG Bank provided EUR 14 million to help finance this initiative of the ActiVite healthcare institution. Total investment in the complex, which ActiVite developed under its own management, amounts to EUR 19.4 million.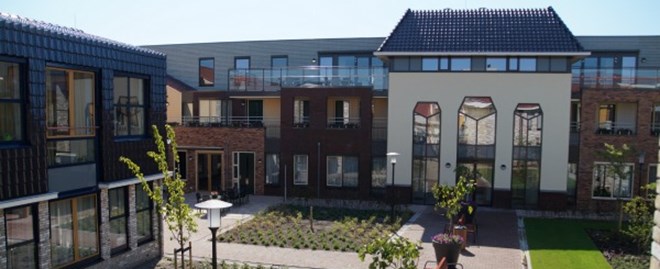 Organised and familiair
A great deal of attention has been paid to the habits and welfare needs of the residents and the layout both inside and outside the accommodation units, as people with dementia benefit from being in a familiar environment.
This was taken into consideration in the design of the buildings and garden of the large complex, which has been divided into a number of smaller accommodation units. As a result, life here is well-organised and familiar for the residents. The garden offers ample space to take a stroll, sit down, listen and watch.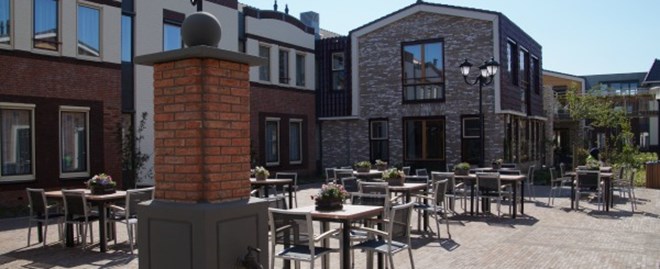 Communal housing
Rietveld includes 19 group units, each providing accommodation for eight residents with dementia. Each unit consists of a communal kitchen and living room, two bathrooms, one visitors' toilet, two disabled toilets, a laundry room, storage space and a balcony or garden. The residents all have their own living room/bedroom.
Each accommodation unit is served by a dedicated team trained to look after people with dementia, making life as pleasant as possible for them. The team works with the residents to plan a daily schedule tailored to their habits and needs.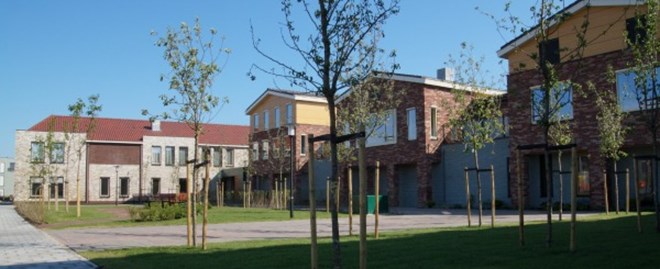 Driven by social impact
We are the bank for the Dutch public sector and we are driven by social impact. We aim to be a natural partner for our clients by helping them addressing the social challenges they have to cope with. Instead of maximising profits, our priority is to maximise the social impact of our activities.
Sustainable cities and communities (SDG 11)
As a partner of social housing associations, BNG Bank contributes to better and liveable communities.
As a partner of municipalities, BNG Bank contributes to affordable and better social provisions.
Good health and well-being (SDG 3)

BNG Bank contributes to affordable health care for everyone.
BNG Bank is a partner in improving sustainability of hospitals and other health care facilities.