Hospital in a green setting in Zwolle
03 November 2014 - Good health and well-being (SDG 3)
A striking hospital surrounded by a green landscape, partly financed by BNG Bank.
When Isala was being built in Zwolle, sustainability and quality were at the forefront. Isala, which opened in mid-2013, was touted as the most beautiful hospital in the Netherlands. The architects' aim was to design a building that focused on wellbeing rather than on disease. It was hoped that the organic architectural style and green surroundings would speed patients' recovery.
Whilst the design of the hospital is large-scale, the different buildings give it a comfortable, small-scale feel. Its organic architecture includes landmarks to help visitors find their way around. The surrounding green landscape is echoed in various indoor gardens. As a member of a consortium with Rabobank and ABN AMRO, BNG Bank was closely involved in financing the new hospital. It was one of the first major consortium financing arrangements in the healthcare sector.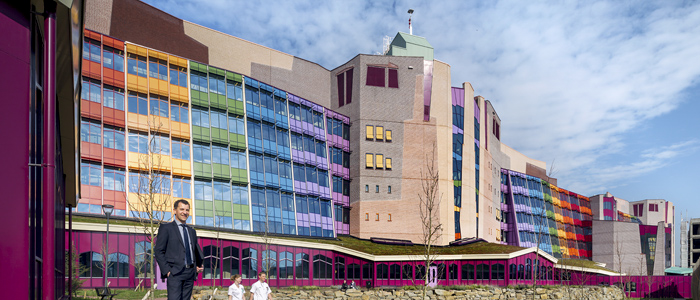 BNG Bank's Jeroen Mulder in front of new built Isala
Driven by social impact
We are the bank for the Dutch public sector and we are driven by social impact. We aim to be a natural partner for our clients by helping them addressing the social challenges they have to cope with. Instead of maximising profits, our priority is to maximise the social impact of our activities.
Good health and well-being (SDG 3)

BNG Bank contributes to affordable health care for everyone.
BNG Bank is a partner in improving sustainability of hospitals and other health care facilities.