Investing in sustainable public transport for Amsterdam
- Sustainable cities and communities (SDG 11), Affordable and clean energy (SDG 7)
Reducing CO₂ emissions and saving energy are high on the agenda of municipal public transport company GVB in Amsterdam. The first electric buses, new 15G trams and sustainable ferries are already in use, partly financed by BNG Bank. GVB aims to provide completely emission-free public transport by 2025.
Every day, about 938,000 people (2019) travel with GVB (the Amsterdam municipal public transport company) by metro, tram and bus and on the ferries across the IJ and the North Sea Canal. Increasingly, they do so in a sustainable way that benefits a liveable city.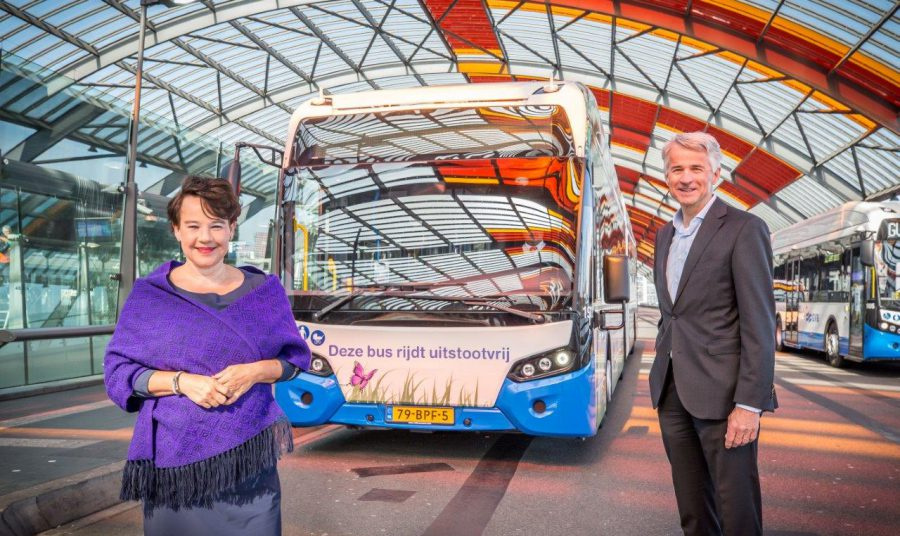 Since April 2020, after a thorough preparation period, the first electric buses have been running on line 22. The first trip in these new buses was made by Sharon Dijksma (at that time alderman in Amsterdam, now mayor of the city of Utrecht) and Mark Lohmeijer (at that time interim managing director of GVB). The electric buses run on green power that is 100% domestically generated. In this way, GVB makes a tangible contribution to better air quality in the city. The driving comfort is a bonus for travellers.
New trams
In the autumn of 2020, brand new trams went into service on line 25 between Amsterdam and Amstelveen. A unique feature of the Amstelveen line is that the trams will be coupled together, so that as many passengers as possible can be transported. There is simply not enough room to do this anywhere else in Amsterdam – think of busy intersections or the Leidsestraat – but there is on line 25. The Amstelveen line is largely unobstructed, with little crossing traffic – partly thanks to the three new flyovers – and plenty of room for long platforms
.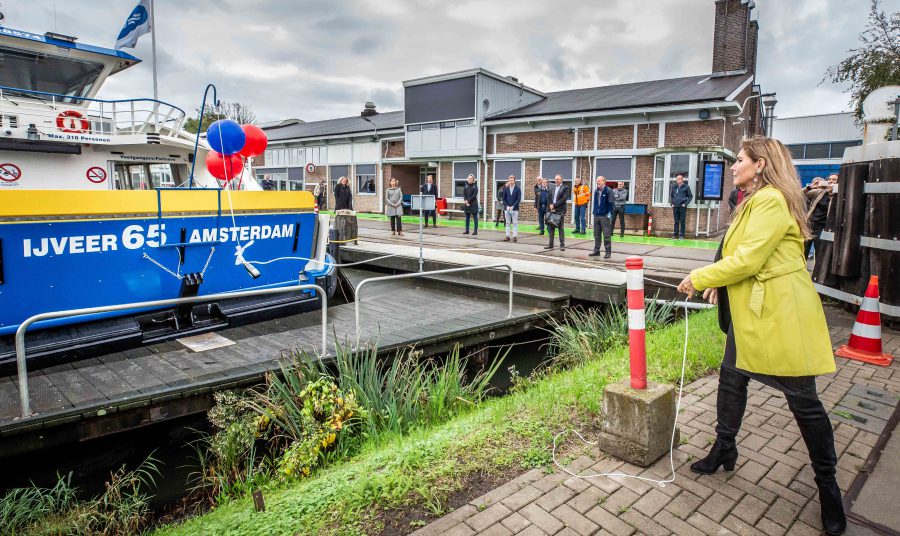 At the end of 2020, the sixth new IJ ferry for Amsterdam also went into service. Claudia Zuiderwijk, managing director of GVB since 1 October 2020, christened the ship and wished it a safe journey. The newest ferries are larger than the previous models; they can transport 310 people. They are also quieter and cleaner. The new ferries are powered by a serial hybrid drive. An efficient diesel engine is used to charge a battery pack that allows the ferries to run electrically, hence the term 'hybrid'. This makes them cleaner than the ferries powered by the old diesel engines, but not yet emission-free. As soon as the technology makes it possible for ferries to run safely and reliably entirely on electric energy, these vessels will be converted to operate completely emission-free. On behalf of the City of Amsterdam, GVB also completed the European tender for five new fully electric North Sea Canal ferries in March this year. The very first electric North Sea Canal ferry is scheduled to commence operations between Velsen-Noord and Velsen-Zuid in the fourth quarter of 2021
.
Completely emission-free by 2025
GVB aims to provide completely emission-free public transport by 2025. This means that GVB will no longer use fossil fuels for public transport. By the end of 2024, the emissions of the entire fleet must have been reduced by 58%. In this way, GVB is helping Amsterdam meet its sustainability objectives. It also meets the requirements for the CO2 Performance Ladder level 3 certificate. From the perspective of quality of life, cleaner air and economical use of energy are becoming increasingly important
.
Fruitful cooperation
The loan from BNG Bank and NWB Bank to finance the new fleet was the first external financing in GVB's history, for which it works together with Transport Authority Amsterdam. The latter party serves as guarantor and reimburses the capital charges. Besides investments in equipment, GVB also uses the flexible bank loan for investments in real estate, ICT systems and technical installations. BNG Bank Agency Services is the banks' collateral and lending agent for this loan
.
Terrence Roep, account manager at BNG Bank, speaks highly of the cooperation, 'BNG Bank was happy to provide this financing. We are a bank that wants to make a social impact. By financing this project on attractive terms as a partner of municipalities, we are contributing to affordable public and social services as well as to a larger share of renewable energy in the energy mix. This is in line with the sustainable objectives with which we want to make an impact.'
Sustainable cities and communities (SDG 11)
As a partner of social housing associations, BNG Bank contributes to better and liveable communities.
As a partner of municipalities, BNG Bank contributes to affordable and better social provisions.
Affordable and clean energy (SDG 7)

BNG Bank contributes to a larger share of renewable energy in our energy mix.
BNG Bank contributes to energy savings  and more energy efficiency.