12 March 2021 - Sustainable cities and communities (SDG 11), Good health and well-being (SDG 3)
Growing older independently, surrounded by good care
ActiVite Rijnzate is a new nursing home located alongside the beautiful Bospark in Alphen aan den Rijn. The 85 care apartments in Rijnzate, including eight for temporary care, were designed for the provision of contemporary care. Rijnzate not only houses apartments but also a general practice, a pharmacy, a home care support centre, offices and a community centre. BNG Bank provided the financing for the construction of the building by care provider Stichting ActiVite. The nursing home opened its doors in 2020.
Layout
All Rijnzate residents have their own spacious apartment with a kitchen, bedroom and bathroom equipped with a toilet and shower. Senior citizens live here as independently as possible: they have their own doorbell and front door. The building was designed and furnished according to care specialists' recent insights. Loneliness, for example, is a risk among older people: the design of the building is themed around combating loneliness. Many residents used to go downstairs to drink coffee in the recreation room, for example. However, many people no longer want to do so. Rijnzate therefore features a living room on every floor: a pleasant space where residents can easily make and maintain contacts. Residents can have their meals here, although they can of course also eat in their own apartment.
Amenities
The ground floor of Rijnzate features Magnolia Square, a beautifully decorated hall with attractively coloured seating areas. In this wonderfully light and airy social room residents can enjoy activities such as drinking coffee with their visitors. The room can also be divided with partition walls into a quiet room, a meeting room or a theatre where residents can listen to a concert, for instance. Besides Magnolia Square, the building also features an atrium with a library and pool tables.
Rijnzate offers plenty of amenities for residents who enjoy getting out and about. They can visit the nearby petting zoo in the woods together with their children and grandchildren. Alternatively, they can enjoy a cup of coffee in the Alphen aan de Rijn city centre, just a few minutes' walk away.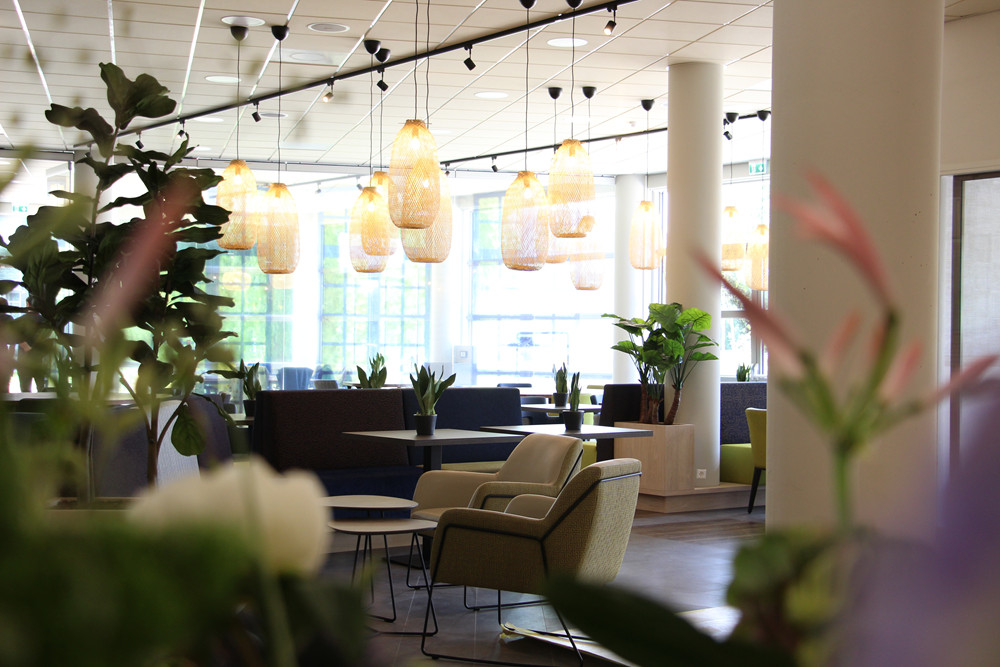 Other users
The ground floor also accommodates a daytime activity centre for people with dementia plus eight rooms for people who need temporary care, for example after hospitalization. They can stay at Rijnzate for six weeks, which may be extended by another six weeks. ActiVite leases space in Rijnzate to a GP practice and a pharmacy. These facilities can be used by both residents and non-residents.
Sustainability
The nursing home meets various sustainability requirements. It features sun blinds which are activated automatically on sunny days. Solar panels have been installed on the roof and the apartments have no gas connection. The apartments each have their own heat pump and, as may be expected, are well insulated. The stairwell is equipped with heat detection, which automatically activates the ventilation system.
Technology
The building furthermore facilitates the trend of the increasing use of digitisation in health care. Employees use tablets, for example, in the provision of healthcare. Rijnzate is the first nursing home in the Netherlands to have its own Smartwall: an interactive wall that activates and encourages residents and participants in the community centre to exercise in a fun way.
Collaboration with BNG Bank
BNG Bank and ActiVite have been working together for many years, says acting director Annemijn van Hemel: "BNG Bank has been a longstanding, reliable and good collaborative partner for ActiVite, just as we are for the bank. We are delighted that we were able to work together on the Rijnzate project as well; a project with a central focus on both sustainability and the well-being of residents and dedicated care staff. This nursing home development offers residents a living environment that is designed to enable them to meet each other as well as enjoy their own spacious room with the ancillary facilities. Moreover, the complex has been constructed in manner that has effectively factored in the fickleness of government policy. If the government intends to reduce nursing home care in the future, the building can be adapted to accommodate other types of housing."
Ilona Sijm, account manager at BNG Bank, also speaks highly of the collaboration: "BNG Bank has financed ActiVite's new development projects before and was keen to facilitate the financing of this project. We are a bank that wants to make a social impact. By financing this project at attractive terms, we are contributing to accessible and affordable care. And that's one of our key objectives."
Sustainable cities and communities (SDG 11)
As a partner of social housing associations, BNG Bank contributes to better and liveable communities.
As a partner of municipalities, BNG Bank contributes to affordable and better social provisions.
Good health and well-being (SDG 3)

BNG Bank contributes to affordable health care for everyone.
BNG Bank is a partner in improving sustainability of hospitals and other health care facilities.